Membership for Society of Port Engineers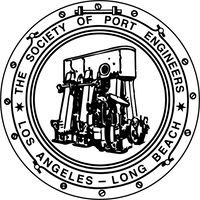 If you're interested in becoming a member of the Society of Port Engineers, Los Angeles / Long Beach Chapter, please download the application by clicking the button below.
Fill out the form and remit the necessary document and payment back to the SOPE.
All applicants for membership must be over twenty-one (21) years of age, must include dues and initiation fees and are subject to election by the Board of Governors on the recommendation of the investigating committee.
New Membership Program – 

When a Member brings a guest to our dinner and the guest joins during the dinner, the Society will pay for both the Member and guest.
REGULAR MEMBERSHIP:
A.) Must be an American Citizen and hold a qualified U.S. License as a Marine Engineer (mandatory).
B.) In addition must be, or have been actively engaged in one of the following pursuits:
     a.  Steamship Company Superintendent Engineer, Port Engineer, or Assistance Port Engineer,
     b.  Shipyard or Repair Shop Production Superintendent, Administrator, Foreman or Sales Engineer
     c.  Sales Engineer engaged primarily with Marine endeavors such as machinery sales and services, boiler testing and/or instrumentation
     d.  Employed in the Regulatory, Classification, or Underwriting organizations such as an Inspector, Surveyor or Supervisor.

ASSOCIATE MEMBER:
A.) A person actively engaged in any field dealing primarily with maritime endeavors.

RETIRED MEMBER:
A.) Person fully retired who formerly met the requirements of Regular or Associate Membership.